THE GREAT WALLS OF CHINA
BY DORIAN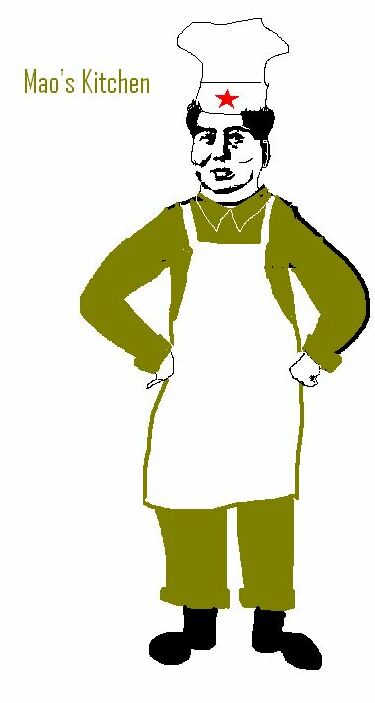 Steeped in the most outrageous décor and tucked away in the most unlikely location, MAO'S KITCHEN is a culinary gem.&nbsp This review may "out it" to the world, and thereby hangs a dilemma -- keep it a guarded secret treasure, or expose it to the hungry masses longing for a pure oriental cuisine.

We walked into a bright, clean minimally decorated brick-walled dining room.&nbsp The tables were well-spaced, conveniently furnished with utensils, chopsticks and napkins, with lots of room for friendly intercourse with table neighbors -- which of course we did.&nbsp The soft jazz playing in the background was a complement not an intrusion into the conversations.&nbsp While awaiting my held-up-in-traffic dinner companion, I was joined by owner/chef Jake (Chinese name: Yanzhong Li) who arrived with a pot of steaming tea and we settled in for a comfortable evening in a friendly atmosphere.

The first observation to be noted is that the walls are covered with colorful posters of Chairman Mao Tse Tung (giving rise to the provocatively-named restaurant of course).&nbsp "Well," Jake explained -- "no, I'm neither a communist nor an admirer of Mao -- however, this represents my childhood -- this was my upbringing; this is the art with which I was surrounded." In any endeavor, one is nurtured by ones origins and they simply cannot be forgotten but are incorporated into the fabric of ones life -- in this case, on Jake's walls.&nbsp The posters are a wonder and are wonderful -- treasures never again to be available.&nbsp Jake collected them during his life in China and has put them to excellent use.&nbsp He was born in 1964 in Beijing during the Cultural Revolution, taught Chinese at the University of Beijing and emigrated to the United States in 1989 during a student movement striving for cultural freedom.

The menu is a unique "Chinese Country Style Cooking with Red Memories." All the food is prepared freshly, meaning nothing from cans and (really) no MSG.&nbsp We started with Peasants' Onion Pancakes ($5) which were served with hosin and plum sauces to suit your palate.&nbsp I found the pancakes a bit bland but my companion scarfed them down with two hands.&nbsp Next came the Bamboo Steamer Dumplings ($8), filled with black mushrooms, bok choy, wood ear mushrooms, cilantro and smoked tofu.&nbsp They slide down your throat with barely enough time for you to bite into their succulence...what an erotic experience! The dumplings were wonderful as far as dumplings go, but I would have preferred a sharper taste.&nbsp The Peace Not War Wonton soup ($6) contains mushrooms, chicken, bok choy, carrots and wonton dumplings in a delicious light broth.&nbsp The chicken had a BBQ'd flavor and a touch of ginger, with all flavors blending to make a treat for the mouth.&nbsp We sampled the Spinach & Tofu soup ($4) as well, with huge chunks of tofu in a very light broth and the spinach barely scalded -- fresh as fresh can be! The Black-Bean ($7) is broccoli with beef, chicken, pork or shrimp in a hearty garlic black-bean sauce (we had pork) and is superb but not extraordinary.&nbsp Mao's Hometown ($8) was the piece de resistance -- beef, chicken, pork or shrimp with smoked tofu and Chine "wood ear" mushrooms in a fresh chili garlic sauce -- made just like Mao's mama's in Hunan Province.&nbsp It was easily our favorite.&nbsp The Mapo Tofu ($6) is soft tofu with pork, chicken or beef in a Szechuan spicy sauce (we had chicken).&nbsp Except for the sauce, which blew out my insides, it is a quite tasty dish.

We ended with more hot tea and deep regrets that our tummies were unable to accommodate the entire menu -- but, rest assured we will be back! (So there, Arnold...)

Mao's Kitchen is located at 1512 Pacific Avenue (at Windward), Venice and can be reached at (310) 581-8305.